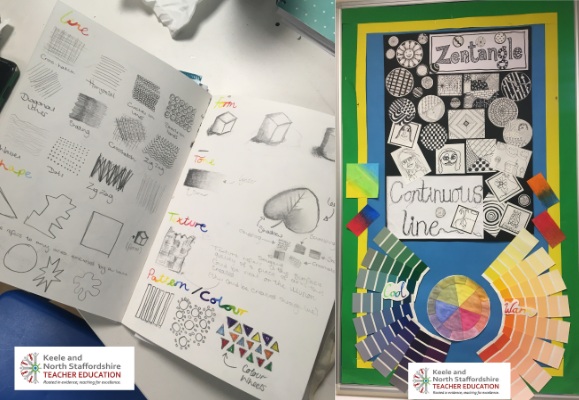 During the recent art sessions, our ATs made use of their new art packs and explored continuous line drawings and the colour wheel. They even made a display board in the Bungalow!
Here are some further images to show some fantastic artwork from an AT who is on our Primary General with Art specialism route. These pieces of art were created during our art SCITT sessions where the ATs hone their art skills and develop their classroom skills in relation to teaching art through the primary curriculum objectives.
This was to demonstrate shading. I used a 2H pencil and a 2B pencil to create the effect.
This was to demonstrate the concept of line. There is continuous line, cross hatching and using different pressures and arrangements to create tone.
This was to demonstrate blending. I blended oil pastels and also pencil to create contrasts of light and colour.
This is from one of the early KNSTE sessions on line where we used wire. I created a dragonfly.
These were ways of creating texture. Using different pencils, shapes and cross hatching to try to show different surfaces and layers